Life is ash lifting every time you fall – Stay happy in life
Life is a constant struggle between you and an uncontrolled force that creates pain to you
Be happy, life is ash lifting every time you fall.
Life is a constant struggle between you and an uncontrolled force that creates pain to you. In general, people live with luggage on their backs.
Each and every one of us is pretending that his/her day is a good day, and very often it's not. We would smile, chew cheerfully, and communicate, despite the demons in our heads.
It's never easy to wake up and face the same worries left on the previous night. But that's not the end of the world. You have to continue, push yourself and your life further.
In this life we ​​live with pain, suspicions and worries. Some people are hopeless because of their situation. Some die because of serious illness. Some are lonely and scared. Some are thirsty in the middle of desert, and some are like you.
And all this puts us in some stereotypes and in the negative energy with which people are connected.
Each person has a battle in his head. No matter what it is, you have to know that you're not alone.
At the end of the day, you are your hero. When you feel weak, don't look for someone's hands, get up and become your first and greatest cheerleader.
Every day we put in our luggage a new weight, like a stone. It would be a good idea to throw at least one stone from your luggage every day. I know it's not easy, I know you think now: "that's easy to say". But believe it is possible.
It's completely okay if you are not good sometimes, you're human. It's okay to feel all at the same time. It's okay to make mistakes and mess up something. But don't forget, there is always a new chance that something bad will happen once again, but you will have more experience than. It's because you have passed similar situations before and you will be able to act differently.
Life is rising despite pain and defeats. No matter what you feel, you have to get up because what remains in your life is worth every fight.
There is all responsibility on you, your life is just yours and you will live it to the end. Don't give up, live on your way. Be brave and be a warrior. There is always hope. We will repeat that there is always hope.
Therefore, please, do yourself a favor and never give up.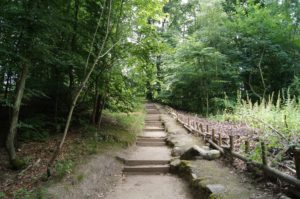 You should fight through stress and fears. Fight against all negative circumstances in your life. Fight against demons that accompany you.
Get up, just like the day. Get up without fear. Get up and do it thousands of times.